The intent of our open day was to invite people along, to relax, browse our space and ask any questions they might have. Our colourful premises have been noticed by many but not everyone has been able to come in and say hello. Importantly, we wanted to let people know we're here and the kind of groups and ideas ACE is involved in.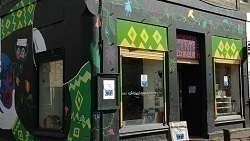 Food brings people – especially when it's well made and the hope here was to again, encourage people to see ACE as a friendly, accessible space – not one that was formal and exclusive. It can be intimidating going to a new place for the first time so our open day was an 'ice breaker' to meet new people and welcome old friends.
In fact, it was a huge success. New and old faces came along to chat, read and get to know us a bit more. We made sure to point out our library of resources, which impressed many as well as our info shop and Chiapas stand – both ways we make money for ACE supported causes we care deeply about. The info shop contains books, pamphlets and zines – many from AK Press in Edinburgh who publish authors whose work we support.
We're hoping to hold another open day soon – maybe before the end of the year, perhaps in the beginning of the next one. It depends on our busy diary – but what we're committed to is engaging as much as we can with those who seek an alternative to the power politics and capitalism which grasps such undeserved prominence in this day and age.
If you'd like to find out more about ACE or any of it's groups, email ace@autonomous.org.uk or message us on Facebook/Twitter.
We now have a small leaflet summarising who is based at ACE and what they do. ECAP, Oficina Precaria, Antifa, Afed, Lothian Socialist Discussion Group, Herbal Study Group, Scottish Radical Library, Sisters Uncut, Edinburgh Action for Trans Health, Edinburgh Chiapas Solidarity as well as a host of other groups are listed along with how you can get in contact.