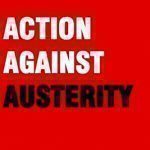 The 3rd Action Against Austerity conference was held in Edinburgh today. 10 groups involved in the fight against austerity contributed to a serious take, on where we go from here regarding the fightback against the austerity agenda.
We see serious flaws in the current political system, Westminster is a mess and Holyrood is hedging it's bets on key powers available. One important decision was made regarding the transfer of welfare powers. We must pressurise Holyrood to implement a halt on Sanctions, and to Scrap the Work Capability Assessment programme in ALL its forms. Therefore we have decided to have a week of protests at MSPs' surgeries on the week of 12th to 17th of June, to press for the Scottish government to halt, immediately, the re-assessment of folk on DLA to decide whether or not they get PIP.
This is a devolved power, and a decision by the Scottish Government would spare thousands of folk the degradation of these assessments. We need real support on this issue, and would ask our followers to start to build for action.