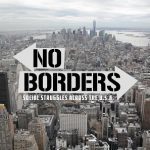 Date/Time
Date(s) - Friday 6th October
7:30 pm - 9:30 pm
Edinburgh Antifascist Action will be holding a screening and discussion of the second chapter of No Borders. From the website:
"No Borders, Social Struggles across the world (Sin Fronteras, La lucha social a través del mundo), is the name of a web series presenting experiences of social organizations and anti-capitalist resistance in different regions of the world. Its special focus lies on anti-authoritarian practices within social movements."
The second chapter focuses on social struggles in New York City.
Watch the trailer for the web series here: https://vimeo.com/165968059
Location
The Autonomous Centre of Edinburgh