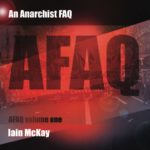 Date/Time
Date(s) - Thursday 18th April
7:30 pm - 9:30 pm
ACE is proud to present: an AK Press Edinburgh event!
We know what anarchists are against: capitalism and the State.
We know what anarchists are for: libertarian socialism.
But how to get from one to the other, by means compatible with the ends? Anarchy is organisation, organisation, organisation.
Come along and join us at the talk by Iain McKay. All are welcome to this free event. If you'd like to find out more, please email us at acemail@gmx.co.uk or check out the Facebook event page for more information.
Location
The Autonomous Centre of Edinburgh