Date/Time
Date(s) - Sunday 17th March
3:00 pm - 6:00 pm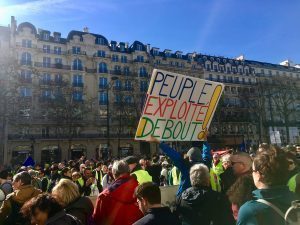 We will host two French Gilets Jaunes (Yellow Vests) activists: Justine Chaput from the NPA (New Anticapitalist Party) talking about her experiences in Paris and Maia Pal from South-East France talking about her work with her town's yellow vest community occupying the local roundabout. With an introduction from a Common House activist who has just returned from 5 weeks in Paris. We will discuss the important questions of left and right in one popular movement, how to centre anti-racism in this work, and how we can support them.
Hosted jointly by ACE and the The Common House (London), Ace is wheelchair accessible and our two speakers from France will speak in English via Skype.
How Its Going Down
In France, the Gilets Jaunes (Yellow Vests) have been organising in local assemblies and weekly demos since 17 November. What started as an anti-petrol tax protest that day soon turned into a massive mobilisation against Macron's neoliberal austerity government, and in many ways, the system itself.
The anti-racist/police violence group La vérité pour Adama and Action Antifasciste Paris-Banlieue issued a call-out in early December for all left groups, anti-racists, people from the poor communities of the Banlieues and across the country, to join the movement as the Macron government's policies and his police violence hurt them the worst.
Internationally, there's a massive media/political effort to paint the Gilets Jaunes as right wing, racist, anti-semitic, homophobic etc, and while there definitely are some individuals who hold these views, the vast majority don't. There is massive participation of left, socialist, anarchist, union, anti-racist groups, queers, etc etc.
Assemblies & Police Violence
The very interesting and new thing is that there are assemblies every week in every neighbourhood where each neighbourhood takes its decisions and discusses issues as a group, forming real local level democracy – and these neighbourhood groups come to the weekly demos together.
The other point to note is the insane *police violence*, esp the use of GLI-F4 which are tear gas grenades containing TNT which explode on impact, and LBD 40 which have caused people to lose an eye. So far 2000 have been seriously injured, of which 17 lost an eye, a few lost a hand and there's even been at least one death.
*Here are some articles in English:*
https://www.newyorker.com/news/news-desk/to-exist-in-the-eyes-of-others-an-interview-with-the-novelist-edouard-louis-on-the-gilets-jaunes-movement
https://communemag.com/yellow-vest-diaries/
https://jacobinmag.com/2018/12/france-yellow-vests-gilets-jaunes-austerity-macron
https://ediciones-ineditos.com/2019/01/15/the-coming-crisis-breath-yellow-vests-where-are-we-going/
https://ediciones-ineditos.com/2018/11/28/on-the-gilets-jaunes-dispatches-from-france/?fbclid=IwAR2VNDUQlg7b5cKBkOMGmjo5hFqrT3WAQhV5hTLE01BD3OIDYb4kGM6zWdA
https://crimethinc.com/2018/12/06/the-movement-as-battleground-fighting-for-the-soul-of-the-yellow-vest-movement
https://www.theguardian.com/commentisfree/2018/dec/12/gilets-jaunes-paris-protesters-france
https://www.bbc.co.uk/news/world-46429930
*Alternative news websites in french:*
http://taranis.news (also lots of videos of the demos)
https://paris-luttes.info/+-mouvement-des-gilets-jaunes-+?lang=fr
*Various groups participating:*
Action Antifasciste Paris-Banlieue
CGT (union)
Solidaires (union)
*and videos, podcasts:*
https://www.facebook.com/huw.williams.7982/posts/10155662041330426?hc_location=ufi
https://www.facebook.com/watch/349920542118450/ (livestream of demos)
https://itsgoingdown.org/?s=yellow
Location
The Autonomous Centre of Edinburgh