Date/Time
Date(s) - Thursday 2nd September
10:30 am - 5:00 pm
Provisional Restart Date:
The Emergency 1-Stop Shop is restarting this Thursday 11:30 – 1 pm & 3:30 – 4:30 pm based here at ACE after having had a break. Access to the
Food & Resources Bank
will continue throughout alongside access to emergency advice.
Free Soup is available between 11.30 am & 1 pm. Any soup left over will be served at 4:30 pm (subject to availability).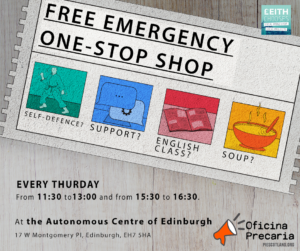 This service is organised by Precariat Office Scotland (Oficina Precaria).
Location
The Autonomous Centre of Edinburgh