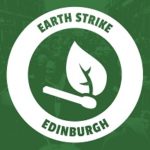 Date/Time
Date(s) - Sunday 2nd February
7:00 pm - 9:00 pm
We need a general strike for the climate!
We're at a crucial moment in our history, and need to do everything we can to ensure our planet doesn't barrel past 2 degrees of warming in the near future. Earth Strike is a movement to build a self-sufficient people's movement to change the direction of society, to protect our planet and the people that inhabit it from the dangerous capitalist system we currently live within.
If you're interested in hearing more about what Earth Strike is, or you want to help define what it could be here, come along to this evening.
There'll be a short presentation to introduce you to Earth Strike, our principles and activity so far, and a small workshop to discuss what Earth Strike could be in Edinburgh.
Don't worry if you already feel like you're signed up to a lot – Earth Strike is a project that anyone can get involved with regardless of existing memberships and affiliations, and you don't have to commit to anything to be a part of this movement. Earth Strike is based around the need for a general strike, and is not a membership-based organisation.
Location
The Autonomous Centre of Edinburgh