Date/Time
Date(s) - Saturday 14th March
10:00 am - 5:00 pm
We will have a stall at the Dundee Anarchist Bookfair this March – we'll be representing all the ACE groups as well as bringing some of our infoshop along.
Check out the details on the Facebook events page.
---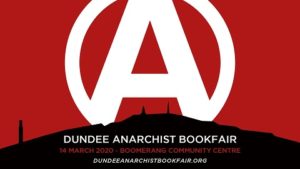 Dundee Anarchist Bookfair is happening on the 14th of March!
This event is free to attend and we'll have free child care available.
The Boomerang Community Centre is an accessible venue and if you have specific access requirements please feel free to reach out to us so we can best facilitate your attendance and participation in the event.
Details about the venue: http://www.boomerang110.co.uk
Food Not Bombs Dundee will be providing a free lunch between 12-2 and tea and coffee all day for donations.
We're going to showcase some of the amazing groups doing work in Dundee and have a selection of independent vendors selling literature and zines.
In the short term, we're actively trying to connect local activists and groups so we can platform them as best we can with the hope that we'll be able to help them grow and share lessons learned.
Our long term aim is to establish an autonomous space in Dundee and we see this event as a vital part of that process.
If you want to get involved in the event then email us at dundeeanarchistbookfair@riseup.net
You can also find out more information on our website: https://dundeeanarchistbookfair.org