Date/Time
Date(s) - Wednesday 25th January
7:00 pm - 9:00 pm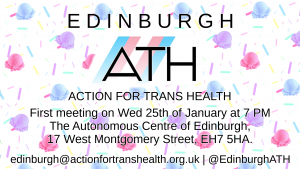 An open meet-up for people interested in forming an Edinburgh-based chapter of Action for Trans Health. This event will only be open to transgender folks* based in/near Edinburgh who would also agree to follow the ATH mission statement:
"Action for Trans Health is a grassroots organisation fighting for democratic trans healthcare and trans liberation. We believe in the principles of mutual aid, education, and solidarity and this is reflected in the training and fundraising work that we do. We believe that trans people come from all walks of life: we are working class, we are black, we are disabled, we are LGB, we are women. As such, for trans liberation to be achieved we need to also be actively fight against all forms of bigotry and build coalitions with other groups with similar, radical aims."
Accessibility to the venue: ACE has no external or internal steps that have to be navigated during the event. All doorways are accessible via wheel/powerchair. While the toilet has space for a wheelchair user ATH are unaware if it has railings or other fittings to help with accessibility and we will update the event with this info ASAP. The venue is not fitted with a hearing loop and we do not have access to BSL interpreters for the event at this time. If you have any other requirements or questions please do get in touch.
Even if you can't come along please do spread the word!
* this includes all binary & non-binary trans folks, agender peeps, genderfluid/genderqueer/genderfucks, and any crossdressers who consider themselves trans.
https://www.facebook.com/events/214777185644230/
https://www.facebook.com/edinburghath/
Location
The Autonomous Centre of Edinburgh