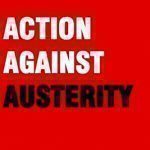 Date/Time
Date(s) - Sunday 17th September
12:30 pm - 3:30 pm
ACTION AGAINST AUSTERITY have called a meeting to discuss and consolidate our week of action; to force the Scottish Government to use the power's they have and STOP the DLA TO PIP Assessment programme in Scotland.
Also for the Scottish Government to scrap the DWP system, whereby claimants cannot put forward appeals to an independent tribunal, without first going through an "internal review".
We would like to encourage ALL disabled groups, activists, and campaigner's to participate in this meeting! With a real show of solidarity, we CAN FORCE A CHANGE. Disabled folk have endured 7 years of extreme hostility and degradation at the hands of our so-called Social Security system – that even the United Nations are taking this Government to task.
We will NOT accept the Parliamentary Process nonsense, nor the blame game of "it's the UK government's power's"
"We the people affected demand that our Government stop this persecution of the disabled".
Location
The Space