Date/Time
Date(s) - Friday 4th August
7:30 pm - 9:00 pm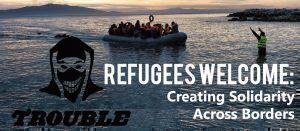 Antifa Edinburgh will be hosting a screening of the latest episode of Submedia's "Trouble" series; episode 3 is a 30 minute short film which documents the ongoing mass displacement that is the "refugee crisis" fuelled by proxy wars and neo-colonial forces and analyses the current situation refugees and those trying to help (and hinder) them find themselves in, from the perspective of multiple struggles situated in different geographic locations.
We'll be aiming to start the screening at 7.30 and have ample time for a discussion afterwards! There will be tea, coffee, biscuits and other snacks people are kind enough to bring along, potentially even popcorn!. Bring your comrades and anyone interested in the refugee crisis, anti-fascism and radical politics! This is also a good social venue for those looking to get more involved.
The event will be completely free, but we'll be asking for donations to keep funding our projects.
The full film can be found here: https://sub.media/video/trouble-3-refugees-welcome/
We will abide by the safer spaces policy of the autonomous centre and consequently will not tolerate sexism, racism, homophobia, transphobia, ableism, or any other form of oppression. Participants will be expected to abide by these policies as well!
The safer spaces policy can be found here: https://autonomous.org.uk/safer-spaces-policy/
Hope to see you and your comrades there!
Edinburgh Antifa
Location
The Autonomous Centre of Edinburgh