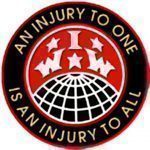 The Industrial Workers of the World (IWW or Wobblies) is an international, left-wing, grass-roots trade union run by its members. They aim to fight against capitalism in the here and now with the eventual goal of abolishing capitalism and putting workers in control of their own workplaces.
Edinburgh IWW is the local branch and has been involved in pickets in solidarity with the RMT and the PCS Museum workers. The branch also cooperates with ECAP. Branch meetings are members only unless otherwise advertised.
To join you can apply online – Edinburgh branch monthly meetings are held at the QUPI cafe at 171 Leith Walk on every 3rd Sunday of the month, 2 to 4 pm.
Please check the Facebook page on this link for possible changes and whether non-members are invited. Thank you.