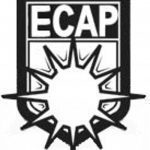 Date/Time
Date(s) - Tuesday 4th February
12:00 pm - 3:00 pm
We are a group standing in solidarity with all those being treated unfairly. Our website is here.
Every Tuesday between 12 and 3 pm we hold an advice and solidarity drop-in here at Ace. We welcome those experiencing problems including work related, dole, council services, housing, debt or poverty.
We are only volunteers, not professionals, but will share our knowledge as best we can and always try to campaign collectively against the unfairness in our society.
Check out the ECAP leaflet below.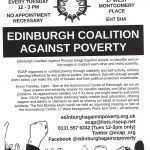 Our drop-ins can get very busy so please come early and prepare for a bit of a wait! Free food is often available as well as information about what we have here at ACE including any events and campaigns we're involved in.
If you'd like to volunteer, or just hang out and provide a friendly ear to listen, please come along or get in touch.
Location
The Autonomous Centre of Edinburgh