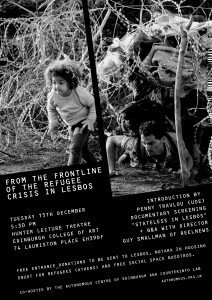 From 5.30PM
Hunter Lecture Theatre – Edinburgh College of Art
ECA Campus, Hunter Building, 74 Lauriston Place, Edinburgh, EH3 9DF
We are very lucky to be able to screen "Stateless in Lesvos" a short (25min) documentary shot this November on one of the islands considered the front-line of the refugee crisis. Focusing on the solidarity of ordinary people in the face of government-led racism and incompetence, this film will show how the working class in Greece are defying the state and showing their solidarity with refugees.
The screening will be introduced by Penny Travlou, from the Edinburgh School of Architecture and Landscape Architecture, University of Edinburgh. The director, Guy Smallman from Reelnews, will be travelling to Scotland fresh from the press film screening and will be on hand to give a Q&A on his first-hand experiences. You can check out his travel-blog for the project here: http://reelnews.co.uk/the-lesvos-blog/
This event is free to attend.
There will be an opportunity to give a financial donations to send to Lesvos as well as to the Notara 26 housing squat for refugees in Athens (http://www.notara26.info/) and the free social space Nosotros (http://www.nosotros.gr/), but it is just as important to come along and raise awareness.
Co-hosted by the Autonomous Centre of Edinburgh and Counterinfo Lab
fb event https://www.facebook.com/events/106327519737862/?fref=ts

For those who can`t attend this event, the film will be screened the day after in Glasgow https://www.facebook.com/events/194379107567573/